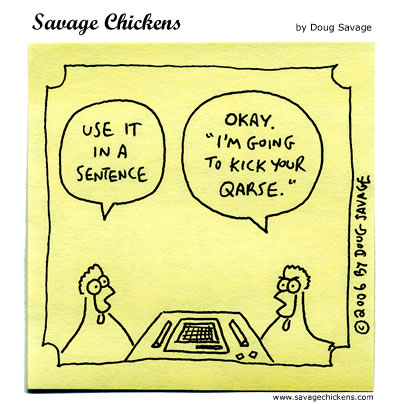 My favorite board game ever, and I mean my favoritist ,bestest game to play is Scrabble!
I LOVE IT!
And I am pretty good at it. I love a good competition and winning fair and square. If I lose...congrats to you and I'll try harder next time. :)
I will however go for your jugular-fairly of course. ;)
I just played some really fun fast 3 minute games with someone called jitterbug on WordBiz 1.7. We were a great match for each other. Fast and furious with a little wit typed in between plays. (You can type to each other) They won some and I won some.
However, tonight I just hit my best 3 minute game score in 2 minutes and 48 seconds I scored 445 and won the game. Yeeha! :) The deal sealer was getting 78 points on the triple with an "s" with a "q" word one way and another going the other way. I think my highest scoring word ever (not in this game) was something like 113 or so because it was a triple using all 7 letters giving the extra 50 point bonus.
I am a good scrabble player and I have played approximately 4,000 almost 5,ooo games on this site over the last (approximately) 4 years years. (I don't watch much TV) My stats look like I lose like half of those but if you look, you will see that my scores are really high (not always) but I forfeit on time. If I play 5 minutes or more -I win often but if I lose it is usually because of time. Although, I get whooped with words/scores too.
This site has been great for honing my scrabble skills. Prior to playing on this site, when I played with friends, they could get up, cook dinner, or do whatever and maybe, just maybe I would have made a move. Now? Sheesh! Now? Bam! Done! And good words and plays. I just think really fast!
I haven't played on line much this year because blogging has taken that spot. At one point when I first got sick and was pretty much home all the time because I was stented, I played so much scrabble on line that when I would drift off to sleep and be in that in between state, I would see scrabble boards with plays on them. :)
If anyone likes to play scrabble come play with me on WordBiz 1.7 I am SeaSpray88 there. We just have to set up a time to meet over there. Also, we can play longer games if you want to. :)
P.S. I am just adding this. Sometimes you end up playing with IDIOTS! They really irritate me too and they usually do there thing when they see that are going to lose. We were just playing a good, I thought fair game. They started making fake words connecting everything together and getting a ridiculously high score. I didn't see it at first (my fault) and he used a totally erroneous q word. Then I had to keep challenging all his fake words which uses up my time. If you quit - your score is affected. IDIOTS! Thing is they get you either way. If you quit-hurts you. If you get mad - they know they got to you.