SIGNS YOU MAY BE ADDICTED TO COFFEE:



You're not waiting for Mr. Right, you're waiting for Mr. Coffee




It's midnight and you're weighing the pros and cons of making a new pot




Your favorite entree:
coffee meatloaf







grinningplanet.com

Part I


Before I get into my story, I am going to digress for a bit to explain that I am in no way a connoisseur of fine coffees. I am not at all a fussy person. As a matter of fact, when it came to home brewed coffee the closest I ever came to that was pouring boiled water into a cup with freeze dried Taster's Choice. I did that for about 20 years. If I was entertaining, I always had someone else help me make coffee because I was never exactly sure how it would taste when I made it. Once we had some relatives visiting from MN along with other family and I put on a pot of coffee which I hadn't tasted first before serving. I decided to have a cup after they left. Oh dear God...no wonder no one wanted seconds-it was AWFUL! I had used a can that had been opened but I didn't remember the last time I used it...months at least. Amazingly, they drank it. Nothing like trying to poison your out of state relatives! (Ahhh...just the thought of it reminds me of Trench Doc's red velvet cake story where his little old lady schizophrenic patient put rat poison in the cake at a family reunion that people from out of state attended, but I digress.) I am the only one in my family that drinks coffee. My husband and sons didn't/don't and so I never bothered to make it for just me and I wasn't at all familiar with how to store coffee or shelf life etc.. Just never thought about it.
I think the ER coffee was always so good when freshly brewed. The smell of it wafting down the hall was as good as opening a fresh can and taking that 1st intoxicating inhale. Having a cup of coffee there if possible during a busy shift or s-l-o-w one was always greatly appreciated! One Christmas the ER docs chipped in and bought one of those industrial type of coffee makers where the coffee brews instantly. I was pretty intrigued by that. Anyway, it wasn't long before I got one for myself. Not the same quality or as big but it did brew instantly.
Last year I bought this Bunn coffee maker. I love it! I was drawn to it because of the stainless steel and the sleek design. I love that the hot water is stored at (I think) 200 degrees and all you have to do is fill the pot with the amount of water you want to use and that same amount instantly pours out already heated into the coffee filter. Presto-in a couple of minutes you have hot coffee.
I have always been happy with the quality of coffee regardless of which brand I purchased.
Part II


It all started with the excellent cup of coffee I had after our meal at the German restaurant last month on the evening of October 18th. Ever since that fateful night I have been on a quest for a good home brewed cup of coffee. Mind you, I had always been satisfied with my coffee until THAT delicious cup of coffee.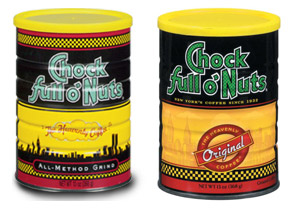 *I had recently finished a can of Of Chock Full o'Nuts hazelnut coffee (that I liked) and was currently drinking CFN (Chock Full o'Nuts) original flavor...which had also been fine.
(couldn't find pic of CFN hazelnut)
However, the very next morning (
morning # 1
) I was seriously disappointed with my home brewed coffee. It tasted like lightly flavored coffee water in comparison to what I had the night before. I thought I miscalculated the measurement, so after a couple of sips
I dumped my cup and the coffee pot
. I proceeded to make a fresh pot being extra careful with the measurements. The 2nd pot didn't taste good either. This pot seemed weak too and yet I was using the same measurement that I always used. I let it go and
just drank the coffee.
..but I was perplexed.
The next morning (
morning#2
)...
the same thing
happens. So I decided to make
another
pot
and my thought processes were,"O.k. what are the directions on the can? Maybe my heaping 1/4 cup measurer isn't good enough. (it always had been) Heaping Tbs they say? I'm measuring the
exact
amount of coffee per CFN instructions. The coffee looks light coming out of the brewer. Did someone unplug it? Is the coffeemaker breaking? I put my hand on the tank...no..it feels as warm as it always does." I poured a cup, tasted it and
dumped that batch out too
.
I decided to
make another pot
and poured the measured water into the brewer but I got distracted with something and forgot that I didn't put the lid down after I poured the water which then activates the release of hot water through the brewer. When I went to pick up the pot it was light, didn't notice the lid was still up and I thought that I still had to add the water. So...I added the same amount of water, put the lid down but unbeknown to me at that moment it was now going to brew double the amount I wanted, which it did. Fortunately, I only make half of a pot for myself (I don't even finish that) and so it didn't overflow. Obviously this would be really weak and so
I dumped

that

pot out too
and
brewed another
half of a pot. Except
this time
I decided to shake the coffeemaker and filter slightly thinking maybe something was wrong with how it was flowing through the coffee filter. As I gently shook it, some thick darker coffee seemed to come through. Now THAT'S what coffee should look like! However, I only succeeded in causing the coffee grains to come through into the pot. Evidently my shaking the filter and coffeemaker caused the coffee grains to overflow down into the pot! I decided that I didn't want coffee after all.
I dumped that batch out too!
But then it was bugging me. So
I decided to brew another pot in the afternoon
just so I could try it another way. Instead of a measuring spoon, I used heaping tableware Tbs. Still not right. What the heck??? I resigned myself to the fact that this is just how it tastes. It must be
ME
!
It's
morning #3
and I am thinking, "
It's true. You don't miss what you never had.
"
But I had it and now I wanted more of the same.
"This isn't rocket science...I
can
do this!" So I thought about how good the ER coffee was...even if I made it. What was different? They used a disposable medicine cup to measure with. For a full pot-5 heaping little medicine cups to be exact and one nurse used 6 because she liked it strong. Of course we didn't have any because I just finished throwing old medicines out! I just made the coffee the way I always do and drank it. This CFN Original coffee wasn't so heavenly and it was boring. I called my husband and asked him to bring home a can of hazelnut coffee since that is my favorite and I liked it a couple of weeks ago.
Part III

On Morning #4 I brewed the hazelnut coffee
. This also tasted like flavored coffee water with hazelnut.
I drank it anyway.
I drank it for a couple more days until I couldn't stand it. Then I called my husband at work and said, "Honey I'm not liking my coffee...could you bring home something Columbian? N-O-O-O
NOT
"
a
" Columbian! Chock full o' nuts Columbian COFFEE!" Nah...we didn't say that but I did ask him to bring home a New Yorker. Oh wait...I didn't say that either. ;)
Suffice it to know that I felt the same about the CFN
Columbian
coffee. CFN advertises it to be a "
rich full flavored indulgence
". Indulgence? I never felt the guilt...evidently not indulgent enough!
I drank it
for a few more days.
ThenI called my husband at work again. "Honey could you please bring home a can of CFN New York Roasted coffee? What? No...I'm
NOT
drinking too much coffee!" At this point I now have 3 half full or so CFN cans of coffee sitting on the counter.
CFN advertises the
New York Roast
to be "
dark, bold and intense
". I had figured
"intense"
would be good. Unfortunately, it wasn't intense enough!
I just drank it anyway
.
"Am I pregnant? Did I have one too many scans? It's me...it has to be me." I'm not product loyal but I stayed with it because it was cheaper than the other coffees. That week it was $1.64 a can although if I was dumping it down the drain, I guess it wasn't such a bargain after all.
After 12 days of this I decided to buy another brand. I decided to buy
THREE
cans of Maxwell House coffee while grocery shopping last week. I added these to my now
FOUR
half full cans of CFN that were sitting on my counter.
What can I say about Maxwell House
rich French roast
but...
Ooooh la la!
I
love it!
Hazelnut is my favorite coffee and I am nutty (couldn't resist) about this one! :)
This is the only can I haven't opened yet but I am sure that it will be
EXCELENTE!


Also,I have doubled the measurement in the amount of
CFN coffee to get almost the same rich bold flavor as the Maxwell house. All this and I really only drink 1, maybe two cups of coffee per day. Probably more like 1 and 1/2. It's just that my morning cup of coffee is something I savor and I want it to be enjoyable. I also want to say that the CFN coffee did pass the CAT (coffee aromatic test) but just didn't capture the bold flavors for me as they have in the past.
I now have
SEVEN
cans stacked up in my computer armoire that I have looked at for my inspiration for this post...three more and we could go bowling...well almost! ;)
P.S.
Grunt Doc has a good idea for making good coffee
. It helped as did increasing the strength but still needed more kick or something. Being an ER Doc , I am sure he knows good coffee and it works, but for some reason the CFN coffee just doesn't do it for me anymore. It's just odd because I have always liked it before. Literally, I changed from one day to the next. Oh well...what do they say? ...it's a woman's prerogative to change her mind. :)
Also, for anyone who may be contemplating getting a Bunn coffee maker in the future, I have mixed feelings about the one I have now. As I've already said, I was drawn to it because of the stainless steel design. So that is a pro for me. I like the idea of no burner so that the coffee doesn't taste old after awhile. I like that I can take the carafe with me to where ever I am working in the house if I want to. I also like the idea of never having to worry weather or not I turned the coffee pot off when leaving the house all day. The cons: Because there's no hotplate the coffee doesn't stay piping hot after a couple of hours. However, someone in Grunt Doc's site told me that with a carafe, you have to warm it 1st. I didn't know that. So now I run hot water in it before I let it fill with coffee. It helps. Now this is part of the coffee experience for me so is a definite negative. The coffee aroma doesn't go wafting through the house or for long because it drips directly into a thermal container. I did have a Bunn with the glass coffee pot and did appreciate the brewing aroma more.