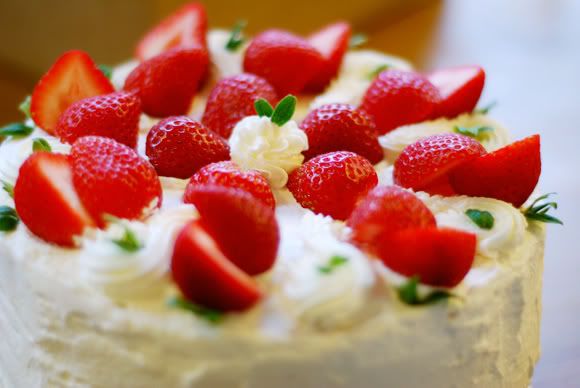 It's my birthday today but we're not celebrating it until Sunday.
Every year my m-i-l makes my birthday cake. I love having a June birthday because she usually makes a strawberry whip cream angel food cake. Strawberries are in season and so they taste wonderful with the whip cream.
This year though she is making a Hawaiian wedding cake (don't know why it's called that-pineapple I guess) but it is with whip cream yellow cake, pineapple, vanilla pudding and nuts. Hold the coconut please. I hate coconut in any form. But I also love this cake. I like whip cream and fruit cakes the best.
I am having my mom come over this afternoon and will be watching Devan then too. We will also celebrate my mother's 85th birthday on Sunday since we didn't get to celebrate it with the family because I was in the hospital. I did take her out to dinner with a friend and younger son on her birthday at the Irish Cottage and she enjoyed that. I wish I felt better...I am not exactly up to party speed. Maybe I will be by Sunday. :)
So at 4:42 this afternoon I will officially be the birthday girl. :)
I am sad too. I am very much missing my friend Pat who passed away in April. Every year she always sent me birthday presents and I always told her not to because I knew it was beyond her budget. She always gave wonderful gifts, usually symbolic of something, great cards and always something more personal written on them. One year she gave me these really arty-pretty long dangling silver earrings. They are cut in such a way that they sparkle and they have giraffes cut out on them. You'd have to see them to appreciate them. She told me that giraffes were symbolic for sticking your neck out to help someone. I don't know if she read that or what but I always think of that when I wear them.
I guess that is at the crux of my not feeling festive...I miss my friend. I miss her sweet voice...I miss her laughter and how she made me laugh...I miss how when I was scared...she encouraged me with her profound faith an insights and I miss her unconditional love...I miss my mentor, one of my closest friends ever...I miss her so very much.