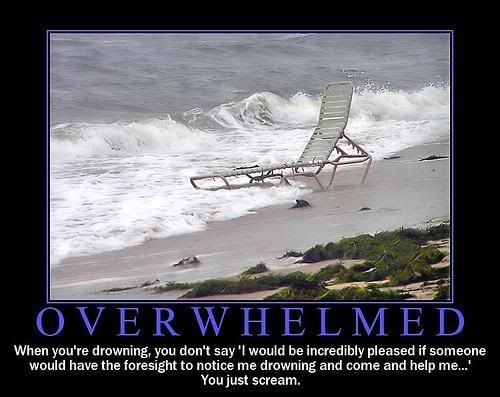 If I thought just screaming would make a difference...I'd do it and you'd hear my scream reverberating off the mountains.
I am overwhelmed.
I am afraid...but trying real hard not to be.
I am frustrated.
I am exasperated.
And I am angry. Because I am angry...
I feel guilt.
The anger is partly from fear..exasperation... and frustration. I want to talk about it...but I can't.. not here anyway... not yet anyway.
I wish I knew someone going through these things.
Early this evening I got a call from a local police officer who stated he was calling from my mother's apartment. He told me that the paramedics and first aid squad were there as well.
And he told me that she was coming around but refusing to go to the hospital.
When the woman who was delivering her medicine didn't get an answer from my mother, she got the building mgr who lives across the hall from her. They had a difficult time rousing her and felt her pulse was barely there and so called the emergency services. The police officer didn't feel a strong one either.
It turns out that my mother hadn't eaten since morning and she stated it was because she was so tired. I had spoken with her around noon and she mentioned being tired... but I wasn't concerned any more than I usually am.
That being said... it seems I am constantly concerned... like the kinds of feelings you get when you feel a foreboding about something... which is not the norm for me.
They felt it happened because she had a drop in blood sugar and so someone made her a peanut butter sandwich and she rallied back after eating that.
I said I would be right over, but I discussed it with my husband and we agreed she should go to the hospital. So I called back and spoke with the same officer, told him I thought they should transport her up to the hospital to be checked out because it didn't make sense that would happen. She just had a good physical last week, labs came back good except her magnesium was low. Her A-1c was 5.5. I was concerned about change in mental status that caused her not to eat. She said she was tired and she did tell me she was tired today and she was sleeping when son and I went over Friday night.
The officer told her I wanted to speak with her and as soon as she got on the phone, she immediately and defiantly stated "I'm NOT going to the HOSPITAL!" I asked to talk with the officer and he said he was sorry they can't kidnap her, had her sign a refusing treatment form but he thought she was doing better. I knew they couldn't force her... I was just frustrated.
I am so overwhelmed with the complications-frustrations connected to my mother that I feel like I have a paralysis of my thought processes as they pertain to her...like sensory overload. There is
so much to deal with
that I am not mentioning here.
So I tried to assess what happened when I got there and she just told me she was tired and not hungry. I reminded her that she should be eating 6 small meals a day. Discussed that she needed a better system for tracking her meds. Her neighbor went back to her apt. to get an extra pill box she had. I tried this a couple of years ago and my mother refused to use it. She agreed to this...I guess because both ladies said they used them. I will type up a daily medication sheet for her to check off in conjunction with her meds. I did that once before but she stopped doing that. She is good about taking her medication but I have relayed changes to her in how much coumadin or magnesium and she sometimes mixes it up. Although...her coumadin levels were perfect as of last week.
My mother has been and is resistent to my doing things for her. She is letting me control her money and pay her bills and I have her in the green. She is starting to let us take her garbage and recycling out...but there is so much more.
I also observed that she could
hardly
raise herself up from her sofa. She does not seem to have much strength or stamina. My husband thinks she should be in a nursing home, but her doctor agreed with me that it would be counterproductive to her well being (emotionally) to be placed in one. I struggle with it because I am concerned about her physical safety, yet she very much has her faculties... aside from mixing some things up.
The doctor wrote an order for her to get a hospital bed. That is a great idea. She refused. Finally today and tonight...i again made the case for the bed and then tonight in exasperation said... "Look..it's your choice Mom. Dr and I are trying to assist you in living independently and you need help with certain things now. So you choose...live here...or live in a nursing home. your choice Mom." She reluctantly agreed.
I KNOW it must be so hard to see your body fail you and have to give up certain things or accept what you perceive as interference vs help from someone. I am trying to be respectful of these things. I just know it can't keep going on this way.
I am also going to find out about a trial meals on wheels. She resists it but even her friends suggested she give it a chance. And I am going to find out about a visiting homemaker on top of my going there.
I will call her doctor tomorrow. I am wondering if the a-fib could be causing the extreme fatigue she seems to be experiencing. ?
My mother is a good person... but she is not an easy person and resists things like even me dusting or cleaning because she doesn't want me touching/moving her things. (here is where I get very overwhelmed because there is so much to do and she won't let me) She won't allow me to do anything without getting frustrated and angry.
Personally...I would be grateful if someone cared enough to help or want to help. And I admit...I snapped at her when she accused me of snooping through her medications. I blurted out..."Do you think this is FUN for me? Do you really think I am just being nosy?!" She said no. I am not proud of that. I am not. I was trying to straighten her medication area, toss out empty med bottles and loading her new pill box.
I kept trying to tell myself..."Step back from this. Look at this as if she were a pt." But it is so hard because of all the emotion, oil and vinegar personalities and our mother- daughter history together... and even through all that... I do love her... she is and always will be my mother.
And how do people do it?
How do they make the decision their parents should be in a nursing home?
Some families prepare and work these things out ahead of time but I am guessing most do not.
The thought of having to do that is heart wrenching to me.
The ED doc thought she should have 24/7 care of a nursing home in case she fell... being on coumadin...she could bleed out.
The PCP...agrees with me...it wouldn't be good for her. She would be devastated with worry and a broken heart over her cats. She is a loner and would not fair well if she had a roommate.
But am I letting emotion cloud my better judgment?
I have to try these things first.
What do other people do?
What would you do?
I hope God will give me the strength and wisdom to best help my mother. And I want to experience joy around her... not argue over every little thing I try to do. I love her. I wish we could have healing in our relationship... that we could just "be" together.