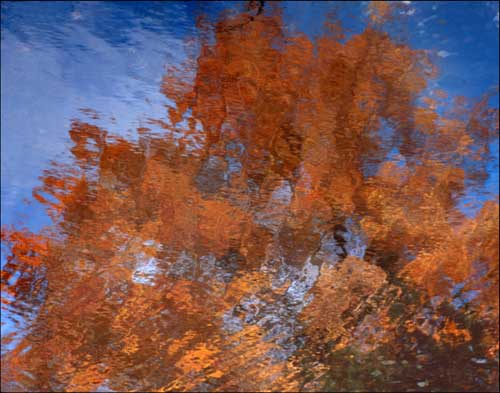 Above photo credit goes to Tom Judd and here is a
link
to some other
spectacular
fall pictures in the area. I
LOVE
this picture and can get lost in it, particularly the crystal clear rippling water reflection. I imagine the water to be cold. I want to splash my fingers through the water and I wonder what is beneath the reflection... and I want to turn around to look up at the magnificent fall foliage contrasting the blue sky.
I am pleased to report that as of yesterday... I do believe my mother will be coming home in a couple weeks if not sooner! I was greatly encouraged by the progress I saw in her yesterday.
There haven't been anymore neglectful incidents with her such as what happened her first evening at the rehab. I am easygoing and polite and I was ... but I can be a tigress when I need to right a wrong. I was not rude. I was a restrained, but assertive and let my concerns be known and that I would be active in my visitations. I also made it clear that she was alert and completely capable of articulating her needs. I did this because she arrived at the facility in a weakened state and I did not want them to mistake that for someone who could be blown off because they assume she isn't aware. I talked to 3 staff people that night and the next day with the social worker.
Perhaps I was wrong to think that, but when went back and then saw she was in urine for hours... I saw red. I know they are overworked.
They have been terrific with her and she likes them all. She likes most of the food. And yesterday she excitedly told me she saw an old friend who used to live in her building who is now in this rehab as a permanent resident.
She stated that they had her walking across the hall.
She was sitting up in the wheelchair when I arrived and remained in it during the visit.
I asked her to raise her legs if she could and quite frankly was amazed at the progress she has made in such a short time!
*I told her if she keeps this up I believed she WILL be coming home and will have no problem raising her legs to get into bed or elevating them while in the living room. I only recently became aware (August) that she couldn't elevate her legs because she didn't have the strength. The doctor knew and so I thought that was just the status quo. Then recently he suggested a hospital bed but she refused initially...although finally agreed and it was delivered the Friday she was taken to the hospital.
She loves the bed in rehab and states it is so comfortable. She is happy to know she will have the exact same one when she gets home but with a remote to move it.
She was completely independent in doing things for herself around the room and wheeling the chair.
She does need assistance to the bathroom... but the good news is she is ambulating with assistance. She could hardly stand before.
And perhaps most important is that her attitude is so much better and for the first time in years, I see a zest for life in her again. She is thriving.
She also is keeping and happily wearing the new clothes I bought her. (That is a big deal and another post) And seems cooperative about my now doing things to assist her around the apartment. And when I mentioned I am cleaning...but putting things right back she did not get mad at me. yes...she still can have her testy moments..but nothing like it was.
I realize that she does not show lovey dovey feelings. I told her that I wanted to do more and be more involved but that she was always snapping or yelling at me and I just gave up and distanced. And I told her I never wanted that. I said I am glad that we are getting along now and I let her know I was proud of her for the progress she is making and I believed would continue to make. She had an opportunity to be reaffirming with me and let me know that she wanted us to get along better but just went to another subject. I could see she absorbed and appreciated my words though and so tis a good thing. :)
For the first time ever... in our relationship...I am optimistic that we may finally patch things up. Oh... no doubt...we ARE oil and water... and that's ok... I don't need or want someone to be my clone... but reasonable.. well ..I do appreciate that.
She is even agreeing to me setting up her meds in a 7 day pill container. And ...i see she is getting her coumadin at 5pm like her doctor wanted her to do but she refused and took it at 11pm.
Maybe this series of events caused her to realize that we all have only had her best interest at heart and if she cooperates...her quality and joy of life could be so much better. I hope so.
Oh... and one little trick I started implementing...and it might sound silly but it did help with resistance. Instead of me using my caustous, polite and sometimes pleading tone to get her to do or not do something... I have started using my professional tone.
And by that I mean...the tone that medical staff takes when they interact with most patients. The voice goes into a slightly different authoritatively polite professional tone... just a bit removed from being personal even though you are being friendly and personable. It's also a kind of positive
can do-will do
tone, when greeting the patient and while encouraging them to do something or telling them you are going to do something. I am not articulating this well... but I noticed even I, as the patient rep did it. You just do... and it is a good thing. Then as you have more contact and perhaps discussion you go back to normal range. It seems to work better with her although... I haven't done it at the rehab.
Anyway...I am optimistic. :)
P.S. Oh my gosh... I just have to say that the autumn leaves are spectacular and I have been thoroughly enjoying my rides (I go 3 different ways) over to visit her!