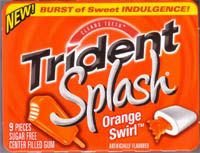 It was orange Trident Gum
Call me crazy... but when I chew gum... I just chew the gum.
When our 20 year old son came home last night... he immediately told me he accidentally inhaled the gum he was chewing and it went up into his nose.
What?
Needless to say..he got my attention immediately.
With lightening speed all these thoughts went through my brain before he explained. I had an instant flashback of the pearl onion stuck up his brother's nose (when he was a baby) that I retrieved with tweezers and of the vitamin (same brother shoved up his nose.. that I didn't find had melted until I spent money on taking him to an ear, nose and throat specialist. I was a relatively new mother and went for the specialist as I thought it was serious. :) and I thought of my friend's daughter who shoved a pussy willow up her nose. her father brought her into the ED when I was working. All she had to do was blow hard and it popped back out.
I was also wondering if the gum was all sticky and stuck up in there and was that dangerous if it went down into his lungs? You know... like could he get plugged up and unable to breathe? (Remember..I don't have a medical license... so
of course
I momentarily , but internally panicked)
I asked how he did that? How did you suck it up from your mouth into your nostril? ???
He said it didn't go up his nostril.
What?
He said he was laughing and somehow sucked it up into the back of his throat and up intothe back of his nose. (Thank God it went up and not down!)
WHAT... HOW did you DO that? And Where is it now? Is it still up there?
Son... was now laughing.
I wasn't because I was envisioning me looking up his nose grabbing gum with a pair of tweezers or an ED visit.
Did you blow it out?"
Yes.
I felt instant relief.
I asked what it felt like and he said it "It sucked! I thought I was gonna have to go to the ER."
Then he said his friend J wanted to know if he could breath alright and after he said he could his friend was laughing. :) Son said he tried to make himself sneeze and then just blew hard while pressing one nostril closed and it popped out of the other nostril. (Does *nostril* seem like a weird word? I'm having one of those
it seems like a weird word
moment :)
What are the odds of inhaling your chewing gum up into your nose?
So ... are we not supposed to chew gum and laugh?
I've never heard of such a thing happening. I didn't know you could inhale a foreign body
upward
into your nose.
Thankfully he is alright now. :)