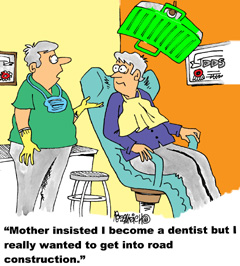 Ever feel like your dentist was doing in construction in your mouth? :)
I woke up
bright eyed and bushy tailed
Monday morning ...and get this ...
EAGER
to
go to
my new
DENTIST
to
have a second tooth worked
on for a crown ...a molar.
As I reread the previous sentence ...I wonder who just put that up there, because given my past abject
FEAR
of going to the dentist -
always
...I think it's truly an oxymoronic statement coming from me. But what a fabulous, uneventful appointment. All I will say about it for now is that even with just the temporary, he just put in ...he eradicated a problem I kept asking my other dentist about -
for years
. And all the former dentist would say is,
"I don't see anything."
And when I pushed the last time he said I should see a periodontist first. This new dentist (TWICE) told me he thought I do not need a periodontist. Thankfully I stalled on that (when former dentist suggested it), because I take care of my teeth and it just did not seem right and I did not want to go down an unnecessary path. And the idea of additional below the gum probing - yikes. However, it seriously felt like a cavity or something needing repair. And for as happy as I am with this new dentist and the tremendous respect and gratitude I have for him ...already ...I feel the polar opposite toward my former dentist. I wanted to go BURSTING into his office on my way home this morning ..SMILING WIDE at the reception desk ...exclaiming
"SEE! SEE what these teeth SHOULD look like! And now I also don't have this other problem I complained about for years ...SEE!
" And then just back out smiling ...showing off the quality dental work. But ...I decided to go home instead.
Update:
It's Tuesday evening now and I am still not having that issue with the tooth I complained about for years. I am so happy it is better and honestly ...I am now
BAFFLED
that a dentist could ignore and let something go that he could've fixed.
Don't dentists have a code of ethics to abide by? I'm baffled I tell you ...and more.
Thankfully ...I have a good dentist now.